What is Oracle Accounts Receivables-(AR)?
The Accounts Receivable function is responsible for managing outgoing invoices to customers who purchased goods or services, and the collection and application of all payments, includingpayments for invoices. The Oracle Receivables module (a part of the Oracle EBS Financials Suite) helps the Accounts Receivable departments to manage this function effectively and efficiently
Invoice: It is a document that will convey how much the customer has to pay for the goods and services he has purchased and the due date for paying the amount.


How does an invoice process through AR module?
The transactions are created either by importing them or by manually creating them. The transactions can then be reviewed and corrected before being completed. Once completed, they are ready to be printed and sent to the customer for payment. However, there is a system option Allow Changes to Printed Transactions, which will allow the correction of printed transactions as well. Then the transactions go through the collection process. Once collected, the receipts are enter and applied. Finally, the receipts can be transferred once they are completely entered
How to create AR Invoice in Oracle E-business Suite?
Navigation: AR Responsibility -> Transactions -> Transactions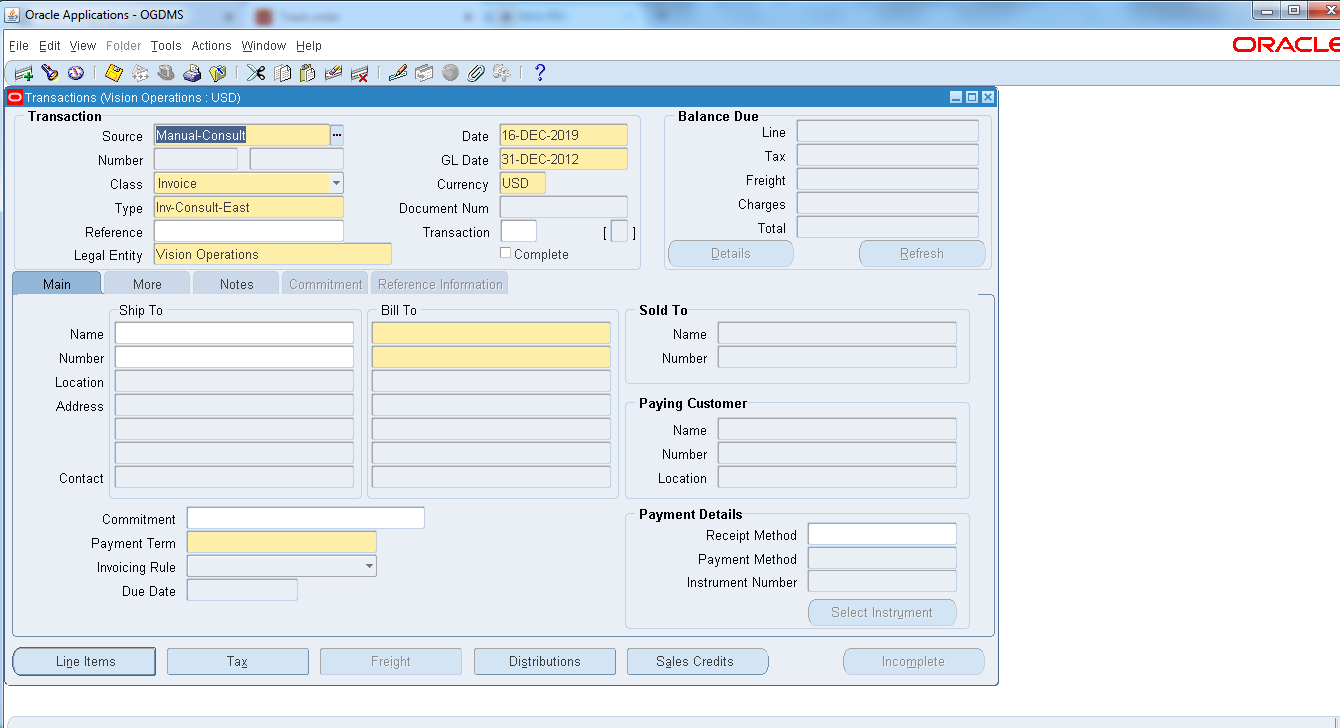 AR Invoice creation - Header
Enter the details
Source – Invoice source i.e. to identify the source of transactions. Select as 'Manual' for manual entry of invoices.
Class – Select the Invoice class. It could be Invoice, Chargeback, credit memo, debit memo, deposit, Guarantee. Select 'INVOICE' for regular invoices.
Type – Select predefined Invoice types.
Enter Invoice Date, GL Date
Enter the currency
Select the customer Bill to and ship to addresses
Select the payment terms
· Save the invoice Header. Upon successful saving AR credit memo number is automatically generated.
Click on 'LINES' to enter line information.
· Enter Item number or description, UOM, Quantity, Unit Price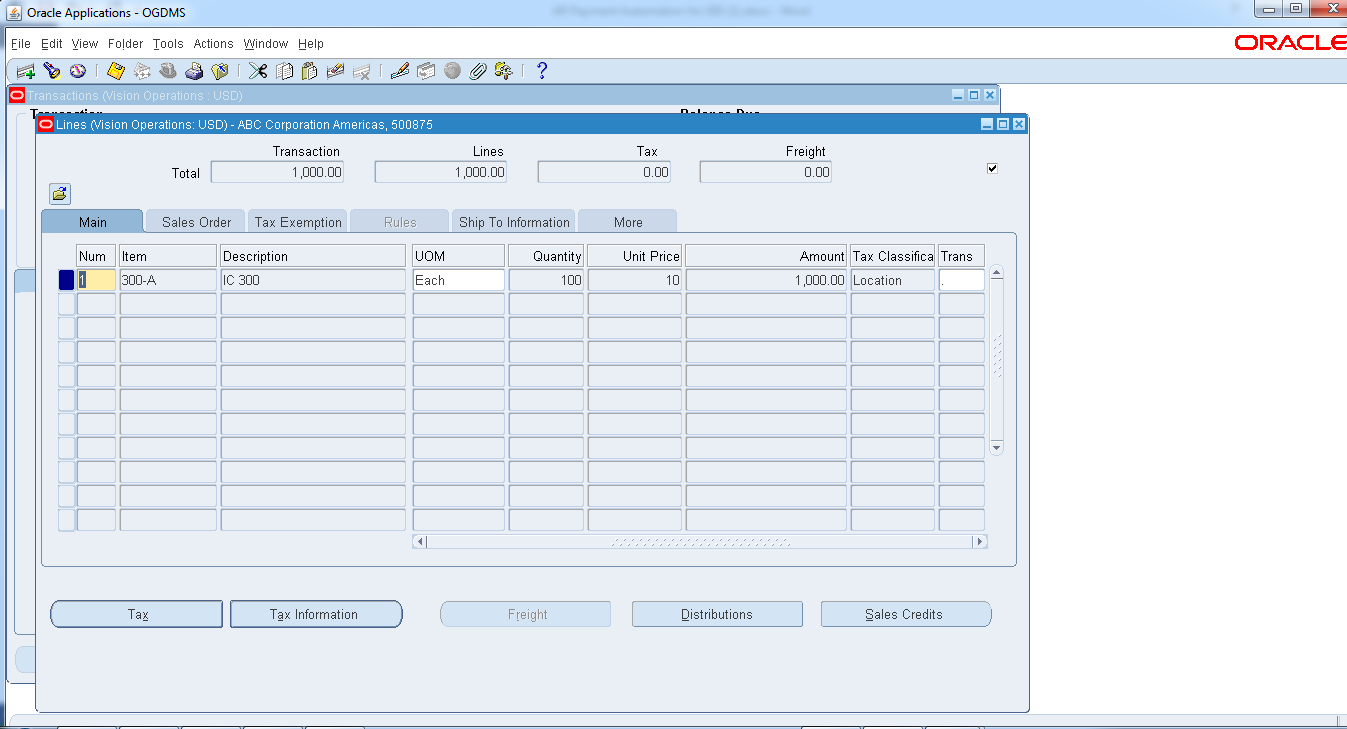 AR Invoice creation - Lines
Click on 'Distributions'.
· Enter GL Account for Revenue and percentage of amount.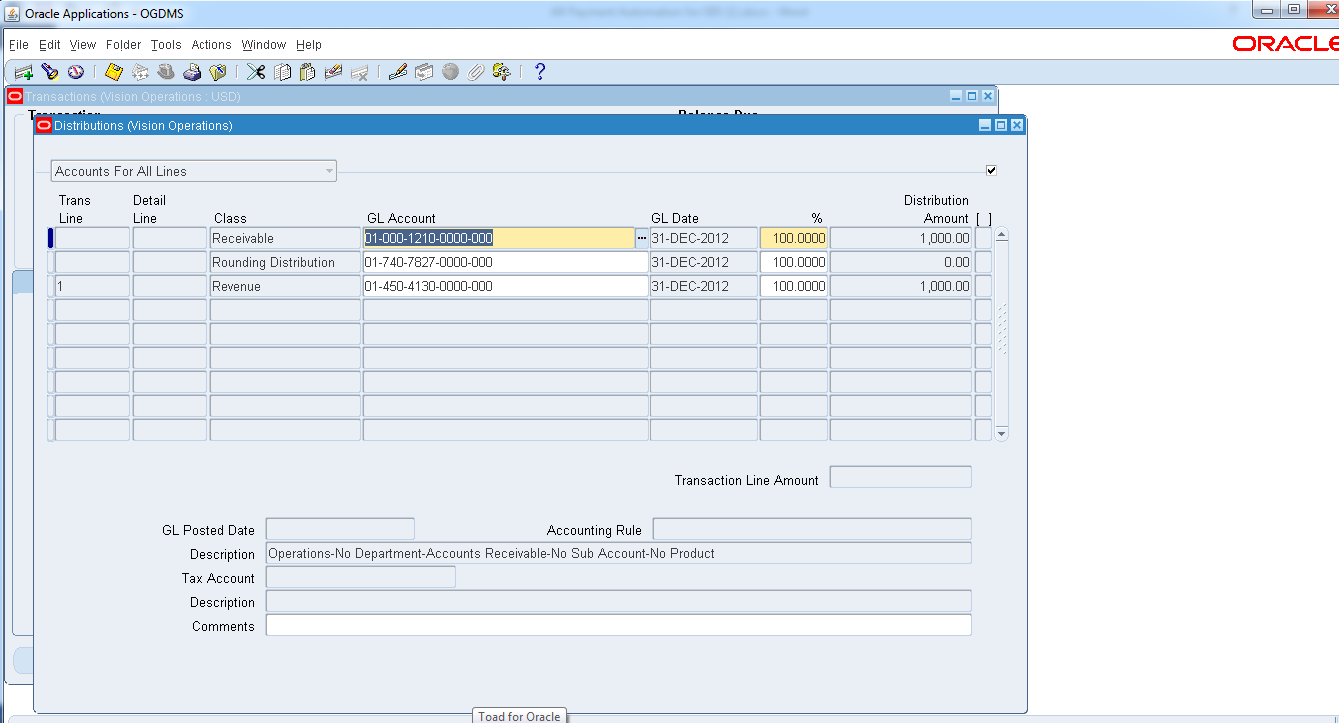 AR Invoice creation - Distributions
Click on 'Sales Credits' to capture sales credit information.
Click on 'COMPLETE' to complete the AR invoice creation.
OneGlobe's Integration solution for AR Invoice Payment automation
OneGlobe has designed a web portal application using payments against Invoices created in E-Business suite can be simplified
How does the solution work?
Application Log in credentials will be mailed to the customers once the details are setup in Oracle EBS.
For existing customers, we can update the flag for self-payment.
Once the customer log in our application, they can view their respective account details, profile, pending invoices and successful transactions.
They can select one or multiple invoices using payment gateway like Paytm, PayUMoney, Razor Pay and they can review the invoice before the payment.
The System will automatically generate the receipts on successful transactions using the integration.
Also, mail alert will be sent to the customer and also to the organization on successful transaction.
Based on the requirement, we can modify/introduce the workflow in the custom application

Key features of our application
Flexibility
Speedy payment and eliminate lot of effort for receive the money from customer.
Options like Pending List, Payment History will help users to segregate paid and unpaid Invoices.
Simple UI for Interaction makes it more user friendly
A full text search helps Users to search out invoices based on Invoice number or amount

The check box enables user to select multiple invoices to pay in a single click and the user can review the Invoice document prior to payment

Reliability
Our application works is intertwined and works simultaneously with Oracle E-Business suite.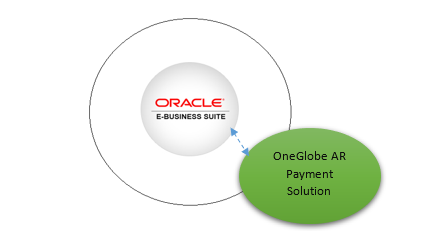 Our application is version insensitive it works with all Oracle E-Business suite versions.