Disciplined Agile Delivery (DAD) is the latest buzz word in the Software Development world. DAD enables teams to make simplified process decisions around incremental and iterative solution delivery. DAD complements many software development practices advocated by Agile including Scrum , agile modeling and lean software development .To be precise , DAD has been seen as a means to move beyond Scrum in terms of scaling , in other words DAD is a hybrid enterprise IT delivery agile framework that provides the solid foundation for Scaling .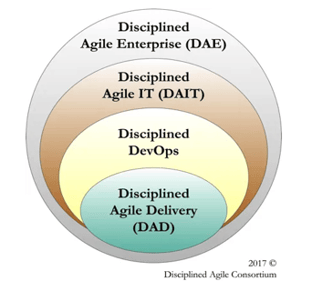 DAD is seen as a second-generation framework that works towards providing a coherent and end-to-end strategy on agile solution delivery. To keep it simple DAD is a people-first, learning-oriented hybrid agile approach to IT solution delivery. It has a risk-value lifecycle, is goal-driven, is scalable, and is enterprise cognizant.
DAD was developed around mid-2006 and s continues to evolve till date. DAD was developed to address the process gaps ignored by Scrum with an ability to scale at an enterprise level. DAD was developed as a result of observing common patterns where agility was applied at scale successfully .It was not until 2015 disciplined agile toolkit was developed , later a second layer disciplined DevOps was added and later a third layer known as disciplined agile IT (DAIT) . In the year 2017 a fourth layer known as disciplined agile enterprise (DAE) was introduced to address the full process requirements for business agility.
DAD is as a collection of twenty-one process goals, or process outcomes. These goals guides teams through a leaner process decision to address the context of the situation they face.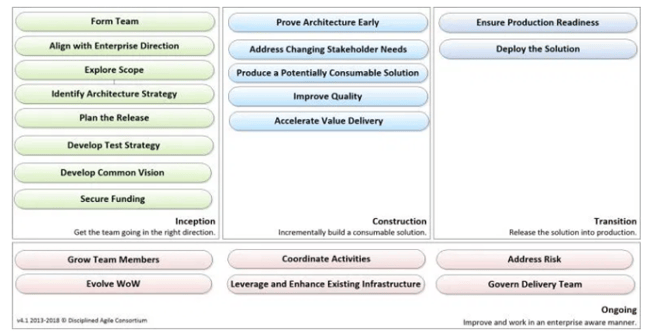 Many of the challenges that teams are facing are out of scope for scrum and the teams need to look in other methods and DAD addresses those key gaps
People First: DAD promotes the ideas that team members should collaborate closely and learn from each other, that the team should invest effort to learn from their experiences and evolve their approach, and that individuals should do so as well.
Hybrid: DAD is a hybrid toolkit that adopts and tailors proven strategies from existing methods such as Scrum, XP, SAFe, Spotify, agile modeling AM and Kanban.
Full delivery lifecycle: DAD addresses the full delivery lifecycle, from team initiation all the way to delivering a solution to your end users